HOMENASTICS®
Download Tumbl Trak's Homenastics Videos and Activity Guides for FREE! Packed with 160 tips, drills, and skills for weeks of at home gymnastic learning!
Whether you're just starting out or you're a seasoned competitor, the Homenastics Videos and Activity Guides will help improve young athletes' strength, flexibility, and skills ... safely!
Download our FREE Homenastics Videos
and Activity Guides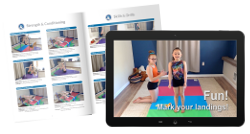 ---
Homenastics Activity Guides
---
From colorful tumbling mats to extra soft mats to mats that teach cartwheels and beam skills.
Tumbl Trak's home gymnastic training bars are the perfect gift for any gymnast.
The Air Barrel is a versatile tool to teach body awareness and control.
---
Perfect for the recreational or beginner team gymnast looking to strengthen skills and reinforce good habits safely at home, in the shapes, they learn in the gym from their coaches.
This great portable package includes a bar, beam, incline, sliders for conditioning and the appropriate matting. Receive a FREE T-Shirt with every order.
Save up to $89 with this bundle!
Home Kip Bar

Jr. Practice Mat

4ft x 8ft Tumbling Mat

Bar Pad

Sectional Beam

Air Barrel

Pair of Sliders with FUNditioning Video

FREE T-Shirt!