Tumbl Trak's product development team features leading innovators of training equipment for gymnastics, cheer, martial arts, and more.
Learn more about some of the people and products they helped bring to market.
Learn more about some of the people and products they helped bring to market.
SPOTLIGHT SALE : Leonard Isaacs Products
A coach since 1967, Leonard Isaacs has developed numerous national team athletes, mentored other coaches and club owners, and was inducted into the USA Gymnastics Region 5 Hall of Fame.
One of the sport's most celebrated innovators, Leonard pioneered the concept of teaching gymnastics with progressions rather than spotting. This idea, revolutionary for its time, was enormously influential on Doug Davis, Tumbl Trak founder and one of Leonard's mentees. Through their close relationship Leonard helped develop some of Tumbl Trak's most important products, including the Laser Balance Beam and Pit Pillow.
A new way of teaching gymnastics
SPOTLIGHT ON : Tom Forster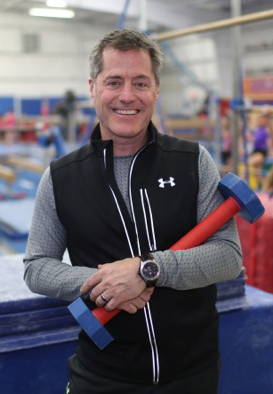 Owner of Aerials Gymnastics
Coached in three World Championships ('95,'96,'01), the Olympic Trials ('96), and numerous international competitions.
Tom Forster is more than an acclaimed elite coach and former gymnast. He's also a gifted tinkerer and problem-solver who's partnered with Tumbl Trak to create some of our most well-loved products.
A mainstay of gyms since 2011, the Forster Bar revolutionized how gymnasts learn wrist-shifting bar skills. Tom followed this with Fun Sticks and Carpet Wall Overlays – two versatile tools with countless training applications. Finally, the Handstand Homework Mat has been a game-changer in helping gymnasts practice handstands at home.
Revolutionizing bar and handstand training
SPOTLIGHT ON : Brett Wargo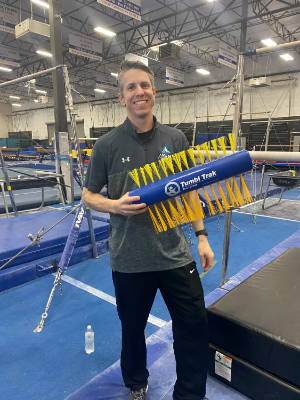 Coach, Ascend Gymnastics (2022 USA Gymnastics National Program of the Year
With over 20 years of coaching experience, Brett Wargo has helped countless gymnasts learn front giants on uneven bars. He saw that many of these athletes had trouble sensing exactly where their feet were during their swing and so they often broke form too early, pulling in to avoid hitting the low bar.
Brett realized that if he had a safe way to help gymnasts build awareness of their feet's distance to the bar this would be a game-changer. His innovative Porcupine Pad features soft, flexible bristles and wrap-around padding to build awareness and confidence.
Learn front giants with confidence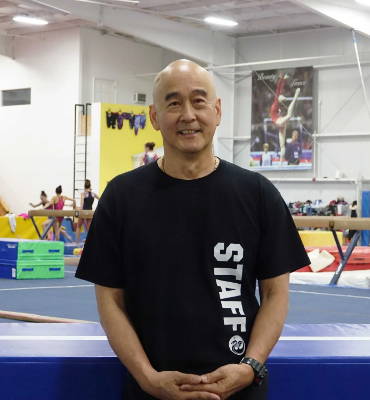 Coach Al Fong's world-famous GAGE Center is known for producing championship-level gymnasts. But Al also views it as a research-and-development lab where he invents groundbreaking training equipment.

His Al Fong Spotting Block system was developed to give coaches a safe, flexible way to train handstands, giants and release moves. It can also be used for conditioning stations, obstacle courses, and countless other drills and skills.
Let the blocks do the work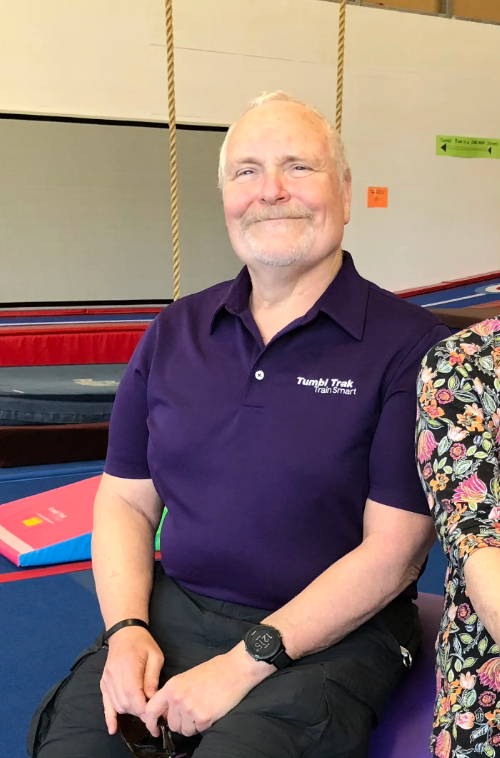 Doug Davis, Tumbl Trak founder
Doug Davis is our company's founder and original innovator. In the 1980s he invented the "Tumbl Trak" – the iconic extra-long, open-ended trampoline that revolutionized the sport.
Doug embraced the vision of gymnastic coaches like Leonard Isaacs and Fred Roethlisberger who were inventing a new type of training that emphasized progressions and minimized spotting. Doug knew that for this approach to take root a new type of equipment would be needed – equipment that was soft and forgiving in order to build athletes' skills and confidence.
Starting with the original Tumbl Trak, our company has invented numerous products that combine technological advances with innovations in training. As a customer once said, "Tumbl Trak has changed the way the country teaches gymnastics."
How many wrists, ankles, and knees have been saved by training on soft surfaces like the Tumbl Trak and Air Floor? How many elite athletes have gone on to international competition healthier and stronger because they've used our products?
As we look towards our 35th anniversary, we're proud to celebrate Doug Davis and how he revolutionized the sport, helping countless athletes train smarter and safer.
More great Tumbl Trak innovations…

Tumbl Trak's Research & Development Team works with innovators around the globe to develop equipment that helps coaches and athletes train smarter and safer. Below are a few more of our recent innovations: