Tumbl Trak's product development team features leading innovators of training equipment for gymnastics, cheer, martial arts, and more.
Learn more about some of the people and products they helped bring to market.
Learn more about some of the people and products they helped bring to market.
SPOTLIGHT SALE : Spencer Peterson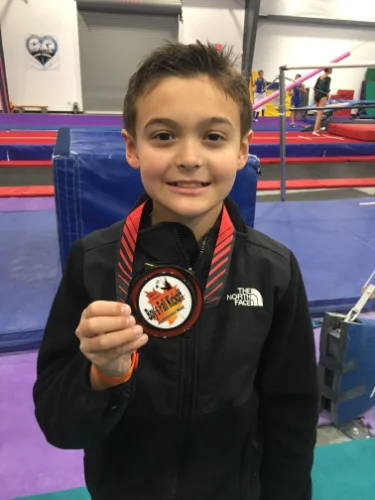 Meet Spencer, the youngest innovator on our team who at 9 years old pitched us an idea that we knew was perfectly suited for Tumbl Trak.
Every great invention starts with a problem that needs to be fixed. Spencer and his friends loved to play stick it games on the Tumbl Trak but they grew tired of drawing dusty circles with chalk every day. He saw our booth at an Invitational Gymnasatics Meet, walked right up to us and said, "Hey, Tumbl Trak!! I have an idea..."
The Spencer Spot Landing Dot is bound to make its way into gyms and programs who are looking for a neat way to play in the gym. It's engineered to be compatible with floors and mats for all types of games where making the mark is your goal!
SPOTLIGHT ON : Brett Wargo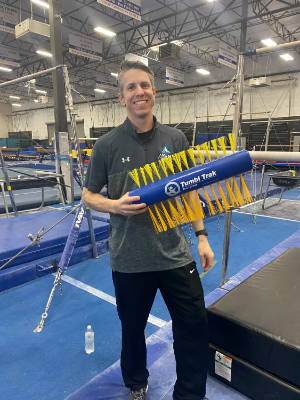 Coach, Ascend Gymnastics (2022 USA Gymnastics National Program of the Year)
Brett Wargo likes to tinker and with over 20 + years coaching experience, it's no wonder he's innovated two products that so effectively help athletes to improve their technique and shapes. The Porcupine Pad was first on the scene making tap swings and giants a safe, tactile experience while the Mountain Bar System was not far behind.
It's been hard for Brett Wargo to keep the Mountain Bar System "under the radar" as it has been in development for several years now. This innovative concept started as a massive, 500 pound wooden structure but has since transformed into a sleek, safe and sturdy product. Coaches instantly recognized its value for beginners through advanced bar skill progressions.
SPOTLIGHT ON : Leonard Isaacs
A coach since 1967, Leonard Isaacs has developed numerous national team athletes, mentored other coaches and club owners, and was inducted into the USA Gymnastics Region 5 Hall of Fame.
One of the sport's most celebrated innovators, Leonard pioneered the concept of teaching gymnastics with progressions rather than spotting. This idea, revolutionary for its time, was enormously influential on Doug Davis, Tumbl Trak founder and one of Leonard's mentees. Through their close relationship Leonard helped develop some of Tumbl Trak's most important products, including the Laser Balance Beam and Pit Pillow.
A new way of teaching gymnastics
SPOTLIGHT ON : Tom Forster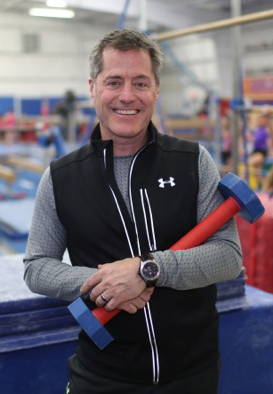 Owner of Aerials Gymnastics
Coached in three World Championships ('95,'96,'01), the Olympic Trials ('96), and numerous international competitions.
Tom Forster is more than an acclaimed elite coach and former gymnast. He's also a gifted tinkerer and problem-solver who's partnered with Tumbl Trak to create some of our most well-loved products.
A mainstay of gyms since 2011, the Forster Bar revolutionized how gymnasts learn wrist-shifting bar skills. Tom followed this with Fun Sticks and Carpet Wall Overlays – two versatile tools with countless training applications. Finally, the Handstand Homework Mat has been a game-changer in helping gymnasts practice handstands at home.
Revolutionizing bar and handstand training
SPOTLIGHT ON : Patrick Clark
Patrick Clark had strong mentors who taught him the techniques of teaching tumbling skills using mats and shapes as obstacles and visual cues. Over the years he became frustrated that most commonly used mats for drills were too big and cumbersome for what he was aiming for. He envisioned a series of small mats that would allow him to quickly adapt stations that would be helpful for a range of skill levels so he set off to solve the problem.

Patrick engineered the first rendition of the Hurdle Helper from foam and duct tape! He worked to refine the shapes and combinations until he felt it was what he was looking for. In 2015 he had a boost of confidence while watching the show Shark Tank and approached Tumbl Trak with his idea. Now, the Hurdle Helper is used in gyms across the country and world!
Teaching skills, running drills

SPOTLIGHT ON : Dave Tilley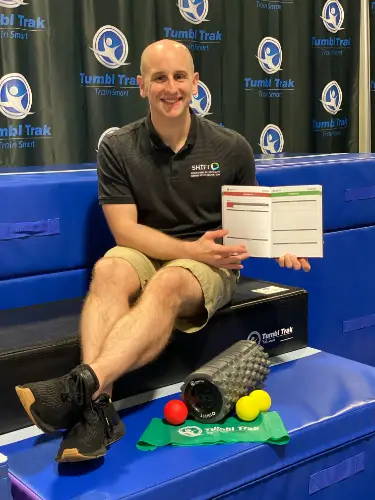 Dr. Dave Tilley is a former collegiate gymnast, experienced gymnastics coach and founder of Shift Movement Science, a company dedicated to providing athletes and professionals the tools, ideas and latest science that supports the care of body, mind and soul. He is Board Certified in Sports Physical Therapy, internationally recognized as an expert in gymnastics sports medicine, and has treated thousands of gymnasts in the last ten years.
In 2019, Dave developed the Athlete Wellness Kit and Journal to help elevate the level of self-reflection, goal setting and positive mindset an athlete experiences. These useful tools have been selected for their ability to support the condition of the athlete both physically and mentally.
Putting athlete care first

SPOTLIGHT ON : Jenifer Dodson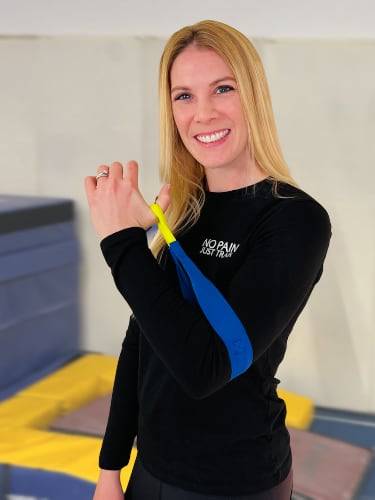 Jen Dodson has taken the long road in her gymnastics career as athlete, coach, parent of an aspiring gymnast and now, a Tumbl Trak Innovator!
Jen noticed that in every vault rotation she spent a great deal of time talking with athletes about running technique. When week after week her verbal cues and demonstrations were not working she found a creative solution for helping her kinesthetically natured athletes to understand the mechanics of efficient running technique - the Running Arms!
Jen shared her idea with Tumbl Trak Founder, Doug Davis, and the rest is history! The Running Arms are a great example of simple design with big results!
Running technique made easy
SPOTLIGHT ON : Eileen Richter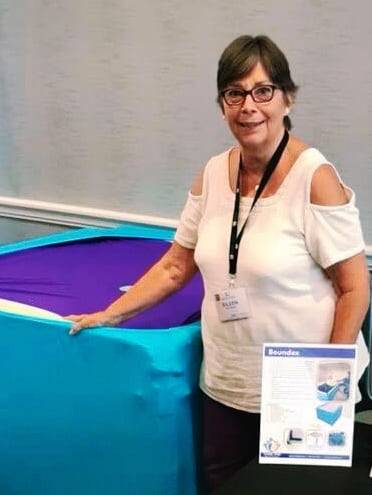 Eileen Richter
MPH, OTH/L, FAOTA

Eileen Richter has spent decades exploring movement with infants and children in her work as an Occupational Therapist.
Eileen developed the "Baby Boundex" to satisfy her need to provide a safe place for children to stretch, push, pull and engage their whole body in tiny homes, rooms or spaces.
Her innovation led to the lycra layers and portable frame that is reveled by Pediatric Physical Therapists, Occupational Therapists, Special Needs Educators and families alike.
SPOTLIGHT ON : Chris Calvert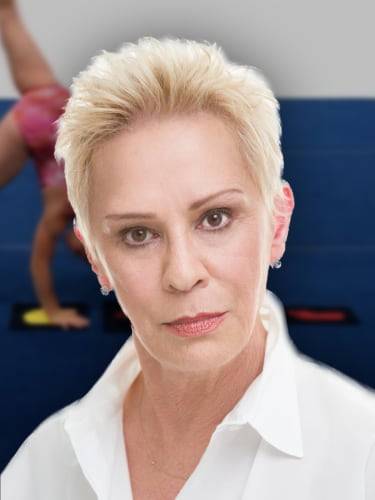 Innovator Chris Calvert dedicated years of her career as a National Safety Educator for USA Gymnastics. Her eye for safety certainly played a part in designing a product that Velcros securely to the floor and replaces products that can slip or slide in a drill.
In 2015, Tumbl Trak Staff spent a weekend at the Atlanta Gymnastics Center, the place where Chris first shared her idea. Chris' robust gymnastics program had plenty of poly spots and rubber markers they used for classroom management but Chris recognized the need for class instructors to have place markers that Velcro directly to the floor.
The first prototypes were hand sewn by Chris. She considered size, shape, weight and even color in her concept. "Right for Red and Left is Lemon" makes it easy for teachers to help students learn which foot and hand goes where with a double foot "stick it" marker as well.
Hands and Feet where you want them!
SPOTLIGHT ON : Paula Lord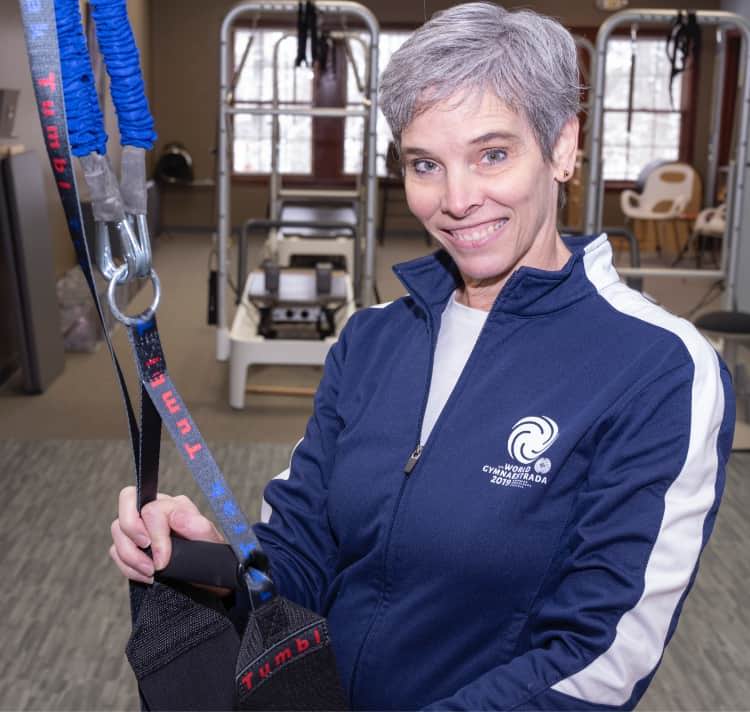 Paula Lord helps people LAUNCH. With a one-of-a-kind expertise in movement, she leads individuals to recognize, clarify, and restore faulty movement patterns. This allows her clients and students to more efficiently and effectively tap into their unique and unlimited potential. Paula's students have gone on to become Olympic athletes, collegiate champions, thriving cancer survivors, successful professionals, happy retirees, and more!
The Suspension Training System is Paula's solution to reducing pain and helping the body align when repetitive movement has taken its toll. Tumbl Trak introduced the STS in 2019 recognizing that it's unique bungee technology paired with Paula's experience in movement correction is a perfect match for athletes of all kinds.
Balance, strength and rehabilitation

Doug Davis, Tumbl Trak founder
Doug Davis is our company's founder and original innovator. In the 1980s he invented the Tumbl Trak – the iconic extra-long, open-ended trampoline that revolutionized the sport.
Doug embraced the vision of gymnastic coaches like Leonard Isaacs and Fred Roethlisberger who were inventing a new type of training that emphasized progressions and minimized spotting. Doug knew that for this approach to take root a new type of equipment would be needed – equipment that was soft and forgiving in order to build athletes' skills and confidence.
Starting with the Original Tumbl Trak, our company has invented numerous products that combine technological advances with innovations in training. As a customer once said, "Tumbl Trak has changed the way the country teaches gymnastics."
How many wrists, ankles, and knees have been saved by training on soft surfaces like the Tumbl Trak and Air Floor? How many elite athletes have gone on to international competition healthier and stronger because they've used our products?
On our 35th anniversary, we're proud to celebrate Doug Davis and how he revolutionized the sport, helping countless athletes train smarter and safer.